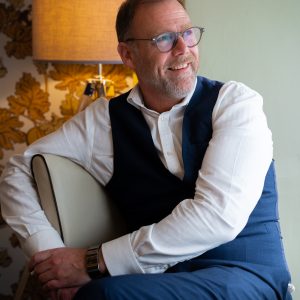 Gary Beach, Director / General Manager
Gary manages the front of house and bar offering at Thackeray's, working closely with the kitchen to ensure the experience is exemplary throughout.
Gary ended up in the restaurant industry entirely by accident. Having worked at a bakers through his school holidays he developed a keen interest in food, which later fuelled a passion for catering. However it was working in pubs & bars which really ignited his desire to pursue catering as a career.
Gary worked his way around the country in a variety of bars, clubs & restaurants until finally returning to the South East to help a friend run what turned out to be a very successful restaurant. When this was sold he moved into country house hotels as this seemed to be the best stepping stone to progress his career. However, Gary always saw this as a step on he ladder rather than a destination and when the opportunity came up to join Thackeray's, alongside one of the best chefs in the South East, he took the opportunity with both hands. He's now been here 15 years.
"What makes Thackeray's stand out is our dedication to 'the experience'. A lot of places will focus on one or two aspects of the offering, but not many are truly customer centric in every respect. That's what we try to do."